Best Neighborhoods in Lafayette: Lafayette, LA Community Living Guide
Posted by Robbie Breaux on Monday, January 11, 2021 at 1:00 PM
By Robbie Breaux / January 11, 2021
Comment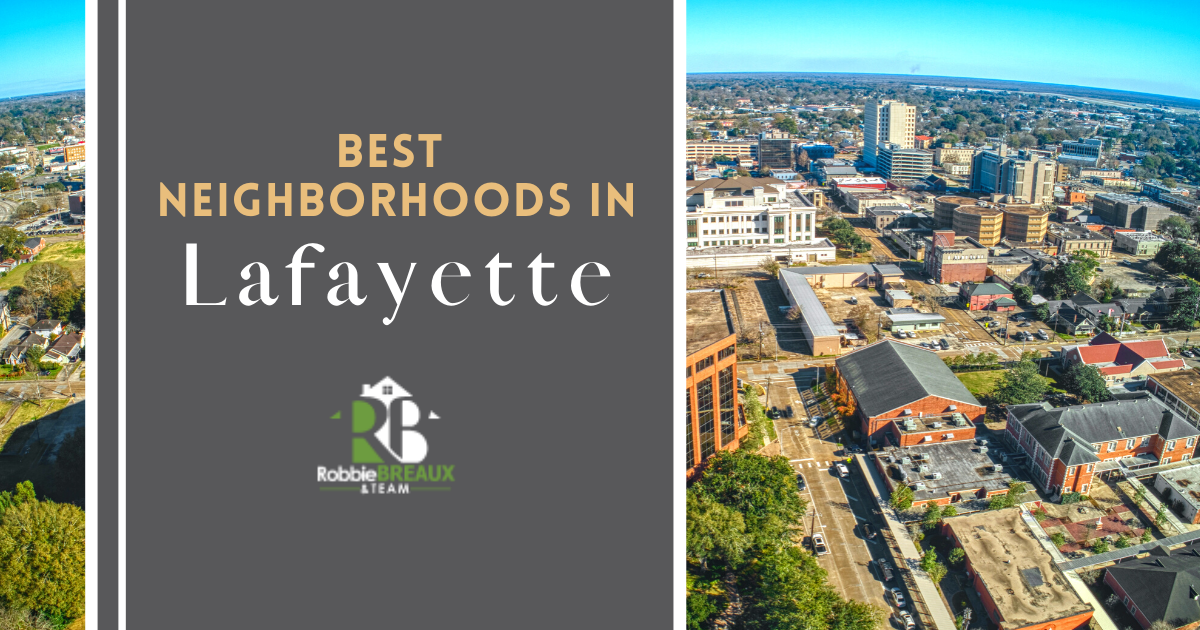 Located along Louisiana's Vermilion River in the southwest part of the state, Lafayette is a city of about 126,185 residents. It serves as the parish seat for Lafayette Parish and is the fourth-largest city in the state. The Lafayette greater metro has a population of just under 500,000.
Lafayette has a robust arts community, including the Acadiana Symphony Orchestra and Conservatory of Music, Chorale Acadienne, Lafayette Concert Band, and the Lafayette Ballet Theater and Dance Conservatory. The city is home to a number of annual festivals and events, including the second-largest Mardi Gras celebration. It is also home to the University of Louisiana at Lafayette campus, along with the following five best neighborhoods.
River Ranch
River Ranch Amenities
Restaurants
Shopping
Nightlife
Parks
Community center
River Ranch is a community located about six miles southwest of downtown Lafayette. About 2,553 residents call River Ranch home.
The neighborhood's architecture is representative of the area's history, reflecting the diversity of Louisiana's culture and customs. The predominant architectural influences to be found include Caribbean, American Colonial, French, Creole, Spanish, Acadian, and Neoclassical Revival.
Homes in River Ranch vary in size. In addition to single-family homes, the neighborhood offers townhouses and condominiums. River Ranch employs strict architectural covenants and building codes to protect property values and the integrity of older structures. Streets are narrow, but sidewalks are wide, encouraging foot traffic over vehicles.
The neighborhood's business district is characterized by its broad sidewalks leading to a traditional mix of retail, dining, and business services. The district is reminiscent of main streets from days gone by, complete with a lively town center.
Residents of River Ranch also enjoy bike paths and hiking trails, as well as community and civic center venues.
Saint Streets
Saint Streets Amenities
Restaurants
Neighborhood schools
University nearby
Access to downtown
Saint Streets is known for its southern charm, as well as its wide variety of architectural styles. The neighborhood's streets are named after saints, from St. Mary to St. Patrick, reflective of the Acadians who first arrived in the area in 1765.
Many of its oldest homes feature their original wood floors, stained-glass windows, cathedral ceilings, and other architectural finishes of the day. The homes are known for their colorful facades and unique architectural features.
Several restaurants and eateries are within walking distance of the neighborhood. Saints Streets is also within walking distance of the University of Louisiana's Lafayette campus, making it a popular spot for students. Downtown Lafayette is within easy biking distance to the Saint Streets residences.
Residents also enjoy the neighborhood's quiet streets, shaded from the hot Louisiana sun by arching oak trees. Combined with the community's abundance of azaleas, it makes for a picturesque backdrop.
Greenbriar Estates
Greenbriar Estates Amenities
Parks nearby
Restaurants nearby
Neighborhood schools
Healthcare nearby
Riverfront views
Greenbriar Estates is a residential neighborhood, tucked away along West Bayou Parkway, about 3.5 miles from downtown Lafayette. The community is valued for its quiet streets, but Greenbriar is not far from the bustle of the city and its many restaurants, retail shops, and professional services.
Despite the quietness, there's still plenty happening in Greenbriar's side of town. Residents will find themselves mere minutes away from recreational areas like Moncus Park, as well as the city's many restaurants, retail, and entertainment venues.
The neighborhood also provides access to the Vermilion River. Additionally, the University of Louisiana's Lafayette campus is a short drive away.
Whittington Oaks
Whittington Oaks Amenities
Ice skating rink
Restaurants nearby
Shopping nearby
Riverfront
Whittington Oaks is a small neighborhood, located south of downtown Lafayette. It is located adjacent to the Vermilion River. Residents of this neighborhood enjoy easy access to main thoroughfares like Camellia Boulevard and Johnston Street, while remaining apart from traffic.
Whittington Oaks is located in proximity to River Oaks and all the shopping options it holds. At the same time, it is also convenient to Camellia Boulevard and its many opportunities for dining.
Homes in Whittington Oaks vary considerably in style and size, ranging from about 1,400 square feet to nearly 6,000 square feet. There are a number of properties within Whittington Oaks that offer riverfront views and access. The neighborhood is prized for its natural beauty, from its stately oaks overlooking its streets to the flowing river.
Whittington Oaks Hotspots
Bendel Gardens
Bendel Gardens Amenities
Parks nearby
Boat launch nearby
Shopping nearby
Healthcare nearby
Bendel Gardens is a 150-acre neighborhood, located on the banks of the Vermilion River, south of downtown Lafayette. Recognized as a top 10 community in Lafayette, the neighborhood is a showcase of luxury homes constructed by local builders.
The area where the neighborhood is located was known as Walnut Grove Plantation in the 1800s. The community was developed by Houston oilman Harry Bentlif, who purchased the land for development into a neighborhood featuring many upscale homes.
Residents enjoy convenient access to the arts through The Lafayette Ballet Theater, Performing Arts Society of Acadiana, and the Acadiana Symphony Orchestra, among others.
Discover Lafayette's Best Neighborhoods
For those interested in moving to the city, Lafayette's location along the scenic Vermilion River offers many of its neighborhoods south of downtown the benefit of scenic views and riverfront access.
Lafayette hosts a number of annual events and festivals. These include the 11-day Cajun Heartland State Fair held on the grounds of the Cajundome and Convention Center. The Festivals Acadiens et Creoles is an annual series of festivals celebrating the city's Cajun and Creole cultures.
The performing arts is also an important part of Lafayette life for many of its neighborhoods. In addition to being home to ballet, orchestra, and live theater, the city holds the annual Festival International, featuring art and music.