Best Places to Live Near Lafayette, LA
Posted by Robbie Breaux on Tuesday, January 26, 2021 at 8:45 AM
By Robbie Breaux / January 26, 2021
Comment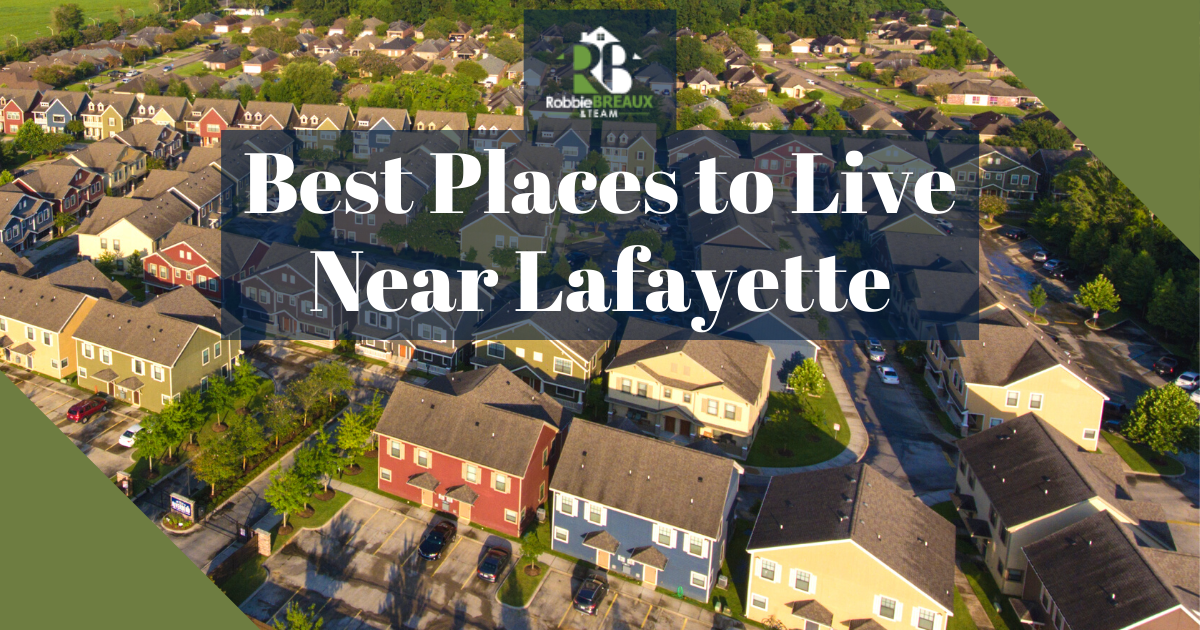 Located along the Vermilion River in Southern Louisiana is the city of Lafayette, the fourth-largest city in the state. Nicknamed "The Hub City," Lafayette is located at the intersection of Interstate 10 and Interstate 49, making it a central spot that travelers need to pass through whether they are traveling north, south, east, or west.
It's no surprise that many people love living in and around Lafayette, which has been dubbed as the "Happiest City in America." Those looking to explore the culture, cuisine, music, and more that the city has to offer may want to check out the following places near Lafayette to move to or visit.
Youngsville
Youngsville Amenities
Youngsville Sports Complex
Amphitheater
10-acre lake
Sugar Beach Professional Beach Volleyball Complex
As this city's name suggests, people may feel like their younger selves when they're in Youngsville, Louisiana. Founded by a small group of farmers in the early 1800s and originally called "Royville," it wasn't until 1983 that Youngsville was declared a town instead of a village. By 2005, it became Louisiana's fastest-growing town and was elevated to city status. The popular Lafayette neighborhood of Sugar Mill Pond in this city is a waterside town that includes over 2,000 housing units, a school, and a town center with commercial establishments. Youngsville aims to have both a rural and hometown type feel while also including more metro amenities for many lifestyles.
Broussard
Broussard Amenities
Arceneaux Park
Lake Martin
Champagne's Cajun Swamp Tours
This small city, originally named Côte Gelée (Frozen Hill) for its severe winter in the year 1784 and its hilly ridge area, was designated as a city in 2002. Broussard currently has a population of just over 11,000, with a growth of 90 percent and business growth of almost 17 percent. This city has a rich history with many properties on the National Historic Register of Historic Places, including the Main Street Historic District and the Andre Billeaud House. The average price of a home in this city is $212,000, with experts predicting a rise of 7 percent in the next year.
Milton
Milton Amenities
Milton Elementary
Picard Park
With a population of 2,330, Milton is not quite a city, but rather an unincorporated community located in Lafayette. It isn't quite known when Milton was founded, but it is located on the east side of the Vermilion River as a southern Lafayette parish. This community has been named as the second-best parish to buy a home in the Lafayette area. Milton offers both a suburban and rural feel, and its average housing price is about $240,000.
Milton Hotspots
Milton Shopping
NuNu's Market - Milton
B & B Furniture Assembly
Milton Restaurants
Scott
Scott Amenities
Boudin Festival
Scott Park
Memramcook Park
Saint Aubin Park
The Begnaud House
The beginning of Scott starts with the building of a western-style saloon by Gabby Anderson in 1902, either because he believed "this is where the West begins," or because it is here that the western train began. Regardless, this city slogan has stuck as the city where the west began and as the boudin capital of the world. Scott has more makers of boudin, a popular Cajun sausage, than anywhere else in the state. The 2019 population of Scott was 8,521, and the town has seen a retail growth of 70.7 percent. Scott's "Rule of the Week" is "Let the good times roll."
Erath
Erath Amenities
The Acadian Museum of Erath
Quality Sports Authority
Erath City Park
Located in the Vermilion Parish of Louisiana, the small town of Erath is about 26 miles from Lafayette with approximately 2,100 residents. The town is named after brewery bookkeeper August Erath, who emigrated from Switzerland to Louisiana in 1860. Erath has a large Fourth of July celebration every year, and Good Morning America even named the celebration "One of the Most Interesting Events in America." The median home price in this town is about $156,000.
Maurice
Maurice Amenities
Picard Farms
Pelican Pointe Healthcare and Rehabilitation
Woodlawn Chapel
Maurice has a population of only about 1,500 people, and is often called the "Gateway to Vermillon Parish." Established in 1870, this community is named after Maurice Villien, a native of Savoie, France. Located approximately 10-14 miles from Lafayette, Maurice has many local seafood restaurants to enjoy. The median home value in Maurice is about $155,000, and there are new construction homes to discover in this community.
Delcambre
Delcambre Amenities
Rip Van Winkle Gardens
Port of Delcambre
The town of Delcambre is in both Vermilion and Iberia parishes. Home to one of Louisiana's biggest festivals, the annual Shrimp Festival, this town is a small seaport linked to Lake Peigneur on Jefferson Island, and to the Gulf of Mexico by the Delcambre Canal, also called the Bayou Carlin. Along with waterfront homes, Delcambre offers a few boat launches at North Pier Marina and Bayou Carlin Cove Boat Landing. Artists love to paint the shrimp boats on the coast and the nature scenes outdoors.
The town of Delcambre was founded by Desire Delcambre, and was incorporated as a town in 1907. Being a fisherman's wharf town is a big part of Delcambre's history and culture. The Delcambre Seafood and Farmers Market at the Bayou Carlin Cove is a popular monthly attraction featuring local music, homemade food, and special events. This, as well as the annual Shrimp Festival typically held in August, draw many visitors into Delcambre. The festival names a Queen and King Crustacean to reign over the event while offering music, dancing, a blessing of the fleet, and - of course - lots of delicious, fresh shrimp to eat! This smaller town has a population of about 1,900 and a median home listing price of $187,000.
Abbeville
Abbeville Amenities
La Military Hall of Fame & Museum
Sam Guarino Blacksmith Shop Museum
Giant Omelette Festival
Louisiana Cattle Festival
Comeaux Park
Godchaux Park
Vermilion Parish Library
Abbeville Chris Crusta Memorial Airport
Abbeville, a city in the Vermilion Parish of Louisiana, is just about 20 miles from Lafayette. There are two theories of how the city got its name: either that its founding father Père Antoine Désiré Mégret named it after his home in France, or that it comes from a word combination of "Abbé" for Abbé Mégret, and "ville" after the French word for town. Regardless of how Abbeville actually got its name, this small city is proud of its history and provides entertaining fun and festivals for everyone.
The city of Abbeville is home to two festivals: the Giant Omelette Festival and the Louisiana Cattle Festival. During the Giant Omelette Festival, chefs create a "5,000 Egg" Giant Omelette within a 12-foot skillet. Though the huge omelette is the main attraction of the festival, there is also plenty of food vendors, music, a charity walk, an egg cracking contest, and antique cars on display. This festival is typically held in November and runs over an entire weekend.
The Louisiana Cattle Festival is held at the beginning of fall very year, during the second full weekend in October. This festival started on September 24, 1949, by the manager of the Chamber of Commerce and former Mayor of Abbeville, Roy R. Theriot, Sr. This 3-day festival has many fun events to enjoy like a cooking contest, cattle livestock show, parade, baby show, street dancing and fair, and a queen's pageant. There is also, of course, a lot of beef and Cajun food to be eaten at the festival, as well as a BB gun tournament, trail ride, barn dance, livestock show, cook off, and bench bash.
Abbeville has a population of just over 12,000 and attracts tourists with its large open-kettle sugarcane syrup mill.
Relocate to the Best Places to Live Near Lafayette
Those planning to visit or move to Lafayette, Louisiana, should consider these great options that offer a variety of amenities and hotspots to discover, depending on their interests and needs. No matter where they may choose to live or travel to, people can be sure that these great spots to eat, drink, shop, and have a good time are waiting close by in these special Lafayette areas. Seafood lovers and those who don't mind warm weather with fun music and a small-town vibe will surely enjoy one of these popular places near Lafayette to visit or call home.