Lafayette Parish Neighborhoods & Districts Guide: Explore Lafayette Communities
Posted by Robbie Breaux on Friday, December 18, 2020 at 11:53 AM
By Robbie Breaux / December 18, 2020
Comment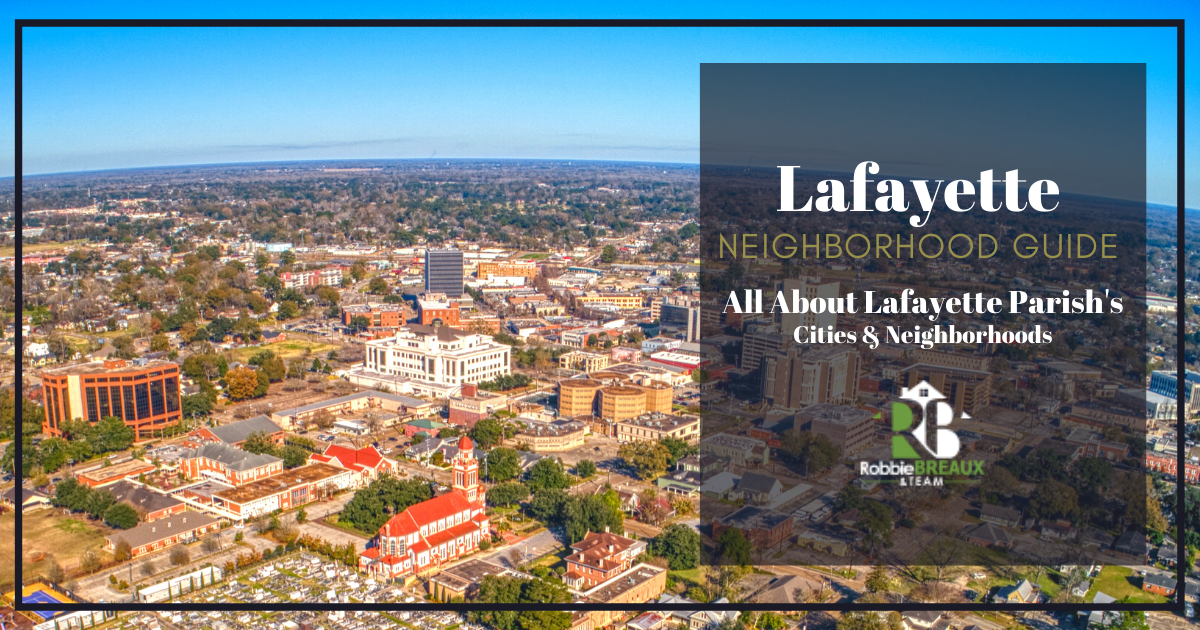 Lafayette Parish, located inland in southern Louisiana, is the parish seat. In addition to Lafayette, the parish contains four other cities and a town, as well as two census-designated locations and eight unincorporated communities.
Louisiana's second-largest public university, the University of Louisiana at Lafayette, is located in Lafayette Parish. The parish is also home to several other institutions of higher learning, including South Louisiana Community College's main campus and a Louisiana Technical College campus.
The population of Lafayette Parish is estimated to be about 245,278, with a growth rate of 0.51 percent over the past year. The parish covers a total area of about 269 square miles, Louisiana's third smallest parish by area.
Table of Contents
Cities of Lafayette Parish, LA
In addition to Lafayette itself, Lafayette Parish includes four other cities—Carencro, Broussard, Scott, and Youngsville—as well as the Town of Duson. Serving as the parish seat, Lafayette has a population of about 126,185, but the greater metro population is just under 500,000.
Carencro is a small city located on the parish's north side. It covers about 7.84 square miles of land.
Scott is the parish's fourth-largest municipality. It is located on the west side of the parish and covers about 11.64 square miles of land.
Duson is a small town located in the westernmost part of Lafayette Parish. The town is partially within Lafayette Parish and partially within Acadia Parish. Its total area is just 3.02 square miles.
Located on the southeast side of the parish is Broussard, a small city covering about 17.89 square miles. A very small portion of Broussard lies in St. Martin Parish.
Set in southern Lafayette Parish, Youngsville is just west of the city of Broussard. Its total area is just 12.07 square miles.
Carencro
Carencro is a suburb of the city of Lafayette. This small city has a population of about 9,535, which is an increase of over 2,000 people over the past two decades.
The city is located along Interstate Highway 49, just north of Interstate Highway 10 and adjacent to the city of Lafayette. Carencro is home to parks, a sports complex, and a golf course.
In 1872, the first post office was established in Carencro, with the telegraph coming to the area in 1884 and telephones in 1894. From there, the village continued to grow, establishing churches, schools, and commercial development.
Carencro has seen considerable growth over the past few decades. In 2000, the population was 6,120. By 2010, that had grown to 7,526 and then to 9,535 in the 10 years that followed.
In 2015, the Louisiana Cultural District Program designated a portion of Carencro as a Cultural District. This designation enabled the community to tap into state and federal tax incentives with the goal of revitalizing the downtown area to give the economy a boost, draw tourists, and encourage the city's artistic community.
Carencro Neighborhoods
Carencro has seen considerable new development in recent years, including new residential subdivisions like Barrington Place. Also among the several Carencro subdivisions are Couret Farms, a traditional neighborhood featuring luxury residences of various styles, with amenities like a fitness center, pool, restaurant, clubhouse, and walking paths. Moss Bluff offers many three- and four-bedroom homes near popular restaurants and new shopping centers.
Carencro's recent population growth has spurred considerable residential development in the area, with many subdivisions offering proximity to the city's retail and restaurant offerings, as well as access to the larger city of Lafayette. Its small-town charm, coupled with modern amenities, appeals to residents.
List of Carencro Neighborhoods
Barrington Place
Moss Bluff
The Estates at Moss Bluff
Fairgrounds North
Couret Farms
Brock Pointe
Scott
With a population of 8,574, Scott is the fourth-largest city in Lafayette Parish. Scott is located along Interstate Highway 10 on the west side of Lafayette. It is bordered to its east and south by Lafayette, and by the unincorporated community of Ossun to its north.
Scott has long used the slogan, "Where the West Begins," likely because the community is where eastern train fares ended and western train fares began, referred to as the "West Line." The community got its start with the railroad, which cuts the town into halves. Scott was incorporated in 1907 and named after J.B. Scott, the division superintendent of the Southern Pacific Railroad. The village became a town in 1960 and then a city in 1990.
The former railroad depot is now a coffee shop, and the city's growth is no longer linked to railroads. In 2012, the Louisiana State Legislature designated Scott as the Boudin Capital of the World, referring to Cajun sausage. Scott boasts more boudin purveyors per capita than any other location in the state.
The community holds an annual Boudin Festival. It is also home to three parks within city limits.
Scott's restaurants are known for Cajun specialties. Visitors and residents will find that Cajun and Creole music and dancing continue to play a part in the community.
Scott Neighborhoods
Scott's rich history and modern charm appeal to prospective residents. Among its more prominent neighborhoods is Judice Oaks, a quaint, walkable neighborhood near schools. Harvest Point offers suburban living, while Westfield is a rural subdivision between Scott and nearby Ossun.
Although it has not seen as fast of population growth as nearby Carencro, Scott continues to grow, with new neighborhoods in the works. One such proposed development would be a multi-use neighborhood that would include walkable access to shopping, restaurants, and other amenities, much like Lafayette's popular River Ranch district.
List of Scott Neighborhoods
Judice Oaks
Harvest Point
Westfield
Oakbridge Estates
City Center
Westgate
Duson
Duson is a town in Lafayette Parish. Home to about 1,754 people, the community is known as "The Duce" among locals. The town was named after a legendary sheriff of St. Landry Parish, Curley Duson. Duson lies in both the Acadia Parish and the Lafayette Parish of Louisiana.
Like many communities in the region, the community of Duson traces its roots back to the development of the railroad line running from New Orleans to Houston. The community was originally known as Duson Station and was incorporated in 1909. Cotton was the main agriculture crop in the area, and Duson was home to three cotton gins until the mid-1960s.
Post-World War II, small residential lots just east of Duson were developed, with modest homes using brick siding paper on the exterior, earning the area the name, "Paper Town."
Duson holds a local Mardi Gras celebration, drawing visitors from the nearby communities of Lafayette, Scott, and Rayne, among others.
Duson Neighborhoods
Duson is a very small community. Summerview is a new subdivision located just outside the Duson town limits, but with a Duson address. Summerview offers a pond and greenbelt, as well as waterfront living.
Duson is a very small community and has not seen much development within its town limits. Moving outside the town boundaries, but within the area, there is more development of traditional homes. Many of these subdivisions offer country living within the surrounding rural areas.
List of Duson Neighborhoods
Broussard
Broussard is a city of about 13,328 on the southeast side of Lafayette. The city has recently embarked on a major project to revitalize its downtown corridor.
Broussard was founded in 1884 and named after prominent local merchant Valsin Broussard. Its early economy was developed on agriculture, including sugarcane, soybean, and hay production, as well as horse and cattle farming. Broussard's greatest early growth occurred between 1890 and 1910, the period that also defined the community's early architecture. There are about 12 buildings in Broussard that are on the National Historic Register of Historic Places.
With over 300 businesses, Broussard has grown to its present standing as an industrial city. Today, the city's economy is dominated by oil and gas service companies, food distributors, real estate developments, and manufacturing.
One of the main attractions in Broussard is Zoosiana, known as the Zoo of Acadiana. The 45-acre zoo is home to more than 750 animals from 130 different species. The zoo is an accredited zoological park.
Broussard is known for its neighborhoods, offering a combination of southern hospitality and charm, while still providing easy access to shopping, dining, and entertainment.
Broussard Neighborhoods
Residents of Broussard's Le Triomphe neighborhood typically find the country club a big draw. Bayou Tortue Manor is one of the area's newest residential developments, prized for its location near shopping and restaurants. Cypress Crossing is set near the edges of Broussard, Youngsville, and Lafayette.
Broussard has a variety of neighborhoods available for prospective residents to call home. Neighborhood amenities offered by some of its newest developments include walking paths, greenspace, and ponds. Older developments, like the Village, deliver proximity to shopping, dining, and entertainment, while also incorporating some of the most coveted amenities desired by today's residents.
List of Broussard Neighborhoods
Cypress Meadows
Cypress Crossing
Bayou Tortue Manor
The Village at Broussard
Youngsville
Located in southeastern Lafayette Parish, Youngsville is a city of about 14,983. It is bordered by Lafayette to the north and the city of Broussard to the east.
Modern-day Youngsville remains a reflection of the culture, people, and architecture of its early days. Although originally named Royville, after one of its earliest developers, the city's name was changed in 1908 at the request of the U.S. Postal Service, to avoid confusion with the Louisiana town of Rayville. The community was renamed Youngsville, meaning "young village."
In 1983, the village became a town. Youngsville was the fastest-growing town in the state from 1990 to 2005, while its population increased by over 300 percent. The town continued to grow at a rate of 103 percent between 2000 and 2010. It received its designation as a city in 2006.
Although sugarcane and soybean fields used to dominate the area around Youngsville, residential development starting in the 1990s now stretches from the former agricultural fields to the city's borders. Subdivisions that were once farm fields, but have since been developed, include Copperfield, Field Crest, Oakthorn, and Sugar Mill Pond.
Youngsville Neighborhoods
Youngsville has a wide variety of neighborhoods. Sugar Mill Pond is a new mixed-used development created by the developers of Lafayette's successful River Ranch development. Copperfield is one of the city's oldest modern-day subdivisions, created in the surrounding rural countryside beginning in 1990. The original Copperfield subdivision now consists of Copperfield, Copperfield South, Copper Ridge, and Copper Meadows.
Youngsville continues to experience growth. The city includes a number of new neighborhoods, with development either underway or newly completed. These include Fairhaven, Sugar Mill Villas, and Canehaven, among others.
List of Youngsville Neighborhoods
Anslem Ridge
Beacon Hills Village
Copperfield
Copperfield South
Copper Ridge
Fairfax Farms
Highland Meadows
Laurel Grove
Legacy Estates
Oak Knoll
Sugar Ridge
Wells Landing
Windermere
Woodcrest
Explore Lafayette's Cities and Neighborhoods
Lafayette Parish is a region rich in culture and tradition, with a variety of job opportunities and a competitive cost of living. While the cities surrounding the parish seat vary considerably in size, many of them are experiencing growth, as reflected in the number of new subdivisions being developed. At the same time, several communities are focusing on revitalizing downtown corridors, transforming them into modern multi-use neighborhoods while preserving their historical heritage.