Things to Do in Lafayette: Lafayette, LA Places to Go and Things to Do
Posted by Robbie Breaux on Friday, April 2, 2021 at 3:08 PM
By Robbie Breaux / April 2, 2021
Comment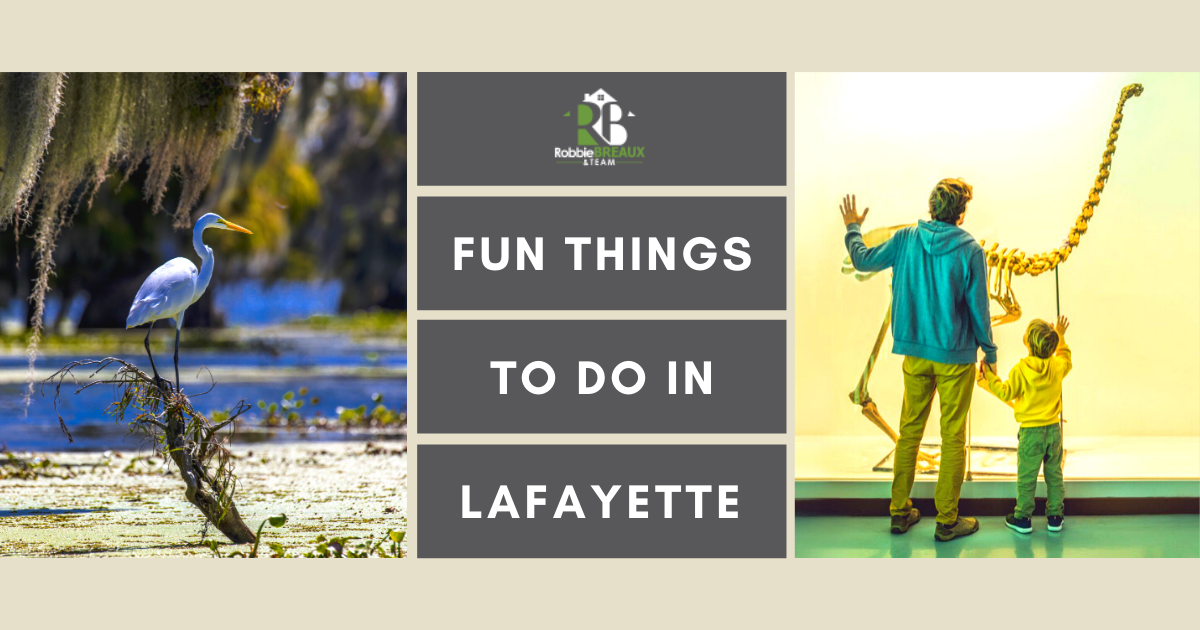 Lafayette, Louisiana, is an incredible place to live, work, and play. Whether someone is visiting for the first time or moving to the area, many fun activities await them. From the great outdoors to shopping, eating, the arts, and nightlife, there is something for everyone in Lafayette, including the following options.
Read more to discover the best activities and things to do in Lafayette, LA.
Lafayette Outdoor Adventures
Lafayette Outdoor Amenities
Bayou Vermilion Paddle Trail
Brown Memorial Dog Park
Lake Martin
Lafayette Historic Azalea Trail
One of the best things about Lafayette is its year-round climate. With moderate temperatures in any season, it is easy to get outdoors and enjoy many activities—whether at one of the city's parks, from one's home on the water, or in one's own swimming pool. For the most part, it only rains a few days or weeks during the summer. Temperatures are high compared to other areas of the United States.
Parks
Acadiana Park Nature Station is open to the public 365 days a year. Many nature trails exist in the park, and leashed dogs are always welcome. The 9.5-mile Bayou Vermilion Paddle Trail is available for kayakers.
The Veterans' Memorial at Moncus Park serves as a memorial and educational center. Large, strong tablets are inscribed and teach visitors the history of America's military.
Brown Memorial Dog Park is the area's best park for dog owners to socialize their furry friends. It features a venue for pet parents to grab a bite to eat while their dogs get some exercise. There are plenty of pet fountains and parking spaces available.
Water Recreation
Lake Martin is home to Cypress Island Nature Preserve. Bird species, such as Anhinga, Snowy Egret, Little Blue Heron, Tri-colored Heron, Black-crowned Night Heron, White Ibis, and Roseate Spoonbill, visit throughout the year. Visitors can even go gator-spotting at certain times of the year. Champagne's Swamp Tours offers guests a tour they will never forget, taking visitors through the Atchafalaya Basin.
Hiking & Biking Trails
Bayou Vermilion (Lafayette Nature Station to Vermilionville) is an easy-to-follow, 9.5-mile paddle trail. Kayak launches are available at both ends, which makes it easy to launch or dock.
Lafayette Historic Azalea Trail is the area's most notable and memorable experience. Since the 1930s, this February to March attraction brings over 40,000+ visitors each year. Like the Cherry Blossom Festival in Washington, D.C., The Azalea Trail in Lafayette celebrates the beautiful bloom of azaleas.
Lafayette Shopping
Lafayette Shopping Locations
Acadiana
Ambassador Town Center
Stirling Lafayette
Acadiana is a traditional mall that features many national brands and local businesses. Anchor stores like Macy's are part of the mall, while smaller national stores like AT&T and Forever 21 are within the mall as well. An entire foodcourt features rotating restaurants, with worldwide cuisine available 365 days a year.
Ambassador Town Center is a 58-acre shopping destination. Visitors can shop at anchor stores like Dick's Sporting Goods and Costco. Smaller spaces are filled with national chains. Whatever someone needs, they can find it here.
Stirling Lafayette offers visitors access to numerous national brands and restaurants. Located just off Interstate 10, this shopping center is a destination for residents and tourists alike. Shoppers should arrive early to find a good parking spot.
Lafayette Restaurants
Lafayette Dining Options
Bon Temps Grill
Southern Social Table & Bar
Olde Tyme Grocery
Lafayette is well known for its Cajun cuisine. While the city does offer other types of cuisine, residents and visitors must try at least one Louisiana-style dish. Bon Temps Grill extends its surf-and-turf plates to anyone who walks through its doors. The restaurant prides itself on being a steak and seafood restaurant. Southern Social Table & Bar is a place for visitors to enjoy grandma's best recipes. Olde Tyme Grocery offers visitors the ability to shop and eat at the same time. The best po'boys and shrimp sandwiches are hot, ready, and waiting to be enjoyed while grabbing the essential items in town.
Arts & Culture in Lafayette
Lafayette Cultural Amenities
Lafayette Science Museum
Children's Museum of Acadiana
Vermilionville
The Cajun Picasso Studio & Art Gallery
Acadiana Symphony Orchestra
When it comes to arts and culture, few other areas in Louisiana can beat Lafayette. This city knows how to represent itself through murals, paintings, pottery, and music.
Whether you want to explore one of the area's many art galleries, plunge into their music scene with zydeco or their symphony orchestra, or enjoy many of the city's historical landmarks, Lafayette has a rich tapestry of cultural heritage it's ready to share with the world.
Museums
Lafayette Science Museum is a paradise for children. All exhibits are age-appropriate, and even adults can enjoy learning more about the world.
With over 15,000 square feet of interactive learning environments, children love the activities in front of them at the Children's Museum of Acadiana. An entire day can barely fit all the exhibits into one visit. Visitors will certainly be back to immerse themselves in this interactive learning environment.
Vermilionville is dedicated to preserving the area's history. Guests are educated on life during the 1800s.
Art Galleries
Lafayette Art Gallery is a place for local artists to connect, create, and show their artwork. Artists of all ages have been featured in this gallery. Often, live sessions are available for audiences to view and watch from around the world.
The Cajun Picasso Studio & Art Gallery is where artists create an air of humor and flair based on the blues, jazz, and zydeco roots. History is the backbone of this gallery, and it does not go unnoticed by visitors.
Performing Arts
Acadiana Symphony Orchestra is home to memorable performances. Current and past generations come together to paint the strokes of history through the performing arts. The works' vibrancy is showcased by talent of all ages.
Heymann Center has housed many musicals, popular concerts, symphonies, and theatrical performances throughout the ages. With hundreds of seats available, Heymann Center allows many visitors the ability to enjoy intimate theatrical performances.
Lafayette Nightlife
Lafayette Nightlife Destinations
Jefferson Street Pub
Scandals Nightclub
Rock n' Bowl
Jefferson Street Pub offers top-rated food, drinks, and entertainment. It's the neighborhood bar for locals and residents alike. Live music is often available on the weekends, which keeps patrons happy and satisfied. The kitchen runs late, so no one needs to rush to find other options after a night out in Lafayette.
Scandals Nightclub is the area's best nightclub. The DJs play the hottest tunes and also play featured songs when requested.
Rock n' Bowl is Lafayette's one-stop-shop for live music, food, drinks, and bowling—all under one roof. Parties can rent a private bowling lane if they decide that is the right move for the night. Otherwise, they can sit back, relax, and enjoy a good meal and a few drinks along the way.
There's Always Something to Do in Lafayette
Lafayette is a great area to live, work, play, or visit. This area has a full range of beauty and mystery between the beautiful azaleas, the ecosystem, and the affordable cost of living. Outside of the great outdoors, Lafayette has some of the best food in the state.
hose who want a night out on the town can choose between bowling, beer, music, or even combine all three. What more could one want from a single city? Regardless of what anyone wants to do, they can find it in Lafayette. It may be a small city, but it is an area with a lot of heart and plenty of things to do for those with a sense of adventure.